Nordstrom's Winter Sale Has All the Cold-Weather Staples Your Closet Is Missing, FYI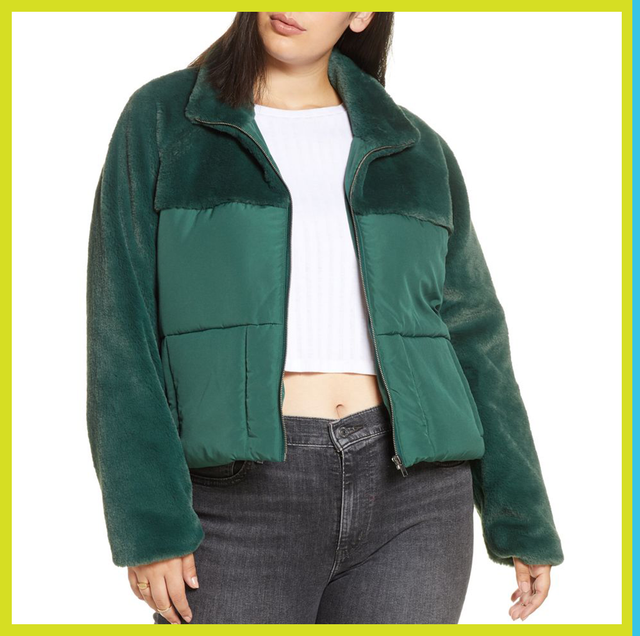 Courtesy
I am soooo fed up with my winter wardrobe right about now. Like, if I have to wear the same sweater-and-jean combo one more time, I may scream. Thankfully, the fashion gods are blessing us all with a lil Valentine's Day gift: Nordstrom's Winter Sale.
In order to make room for new spring merchandise, Nordstrom has drastically dropped the prices (I'm talking up to 40 percent off, people!) on a ton of cold-weather essentials. So say hello to a new faux fur-trimmed bomber jacket, fancy polka-dot sweater, or a to-die-for pearl beret—all under $50 each.
You've only got until February 23 to shop the sale, but my gut is telling me that the best items will sell out long before then.
Advertisement – Continue Reading Below
1
If you need a statement jacket
Mixed Media Puffer Coat
Here's a coat that will make a plain pair of jeans look fancy-schmancy.
2
If you need something for bad hair days
Imitation Pearl Wool Beret
RAINBOW UNICORN BIRTHDAY SURPRISE
nordstrom.com
$17.98
Like, how could you not get this under-$20, pearl-embellished beret?
3
If you need a sweater upgrade
Imitation Pearl Embellished Puff Sleeve Sweater
RACHEL PARCELL
nordstrom.com
$53.40
Gonna make a vow to never wear another boring sweater again with this pearly-sleeved design in mind.
4
If you need a standout handbag
Ashlyyn Leather & Suede Shoulder Bag
TED BAKER LONDON
nordstrom.com
$173.40
Get into these details, honey! This purse's gold-and-marble chain strap is definitely a beauty.
5
If you need a cool pair of sweats
Crop Jogger Pants
CHASER
nordstrom.com
$29.98
Put the leggings on pause for a bit and bag these super soft joggers, ASAP.
6
If you need to show off a little skin
Off-the-Shoulder Long-Sleeve Smocked Top
The off-the shoulder trend isn't going anywhere, but it has evolved a little—just check out the curved neckline here.
7
If you need a wear-everywhere dress
Lina Corset Midi Dress
AFRM
nordstrom.com
$88.80
I'd wear this green printed dress to work, to dinner with my girls, and to grandma's house on Sunday. (Me and this dress are gonna have A WEEKEND, okay?)
8
If you need new leggings
Live-In High-Waist Leggings
ZELLA
nordstrom.com
$38.98
J.Lo wears metallic leggings to the gym, and we all should too.
9
If you need a soft hoodie
Hooded Cable Sweater
COURT & ROWE
nordstrom.com
$71.40
Give me all of the fuzzy tops, please. This one usually costs more than 100 bucks, but it's just $71 right now.
10
If you need a fresh pair of white sneakers
Sleek Mid Sneaker
ADIDAS
nordstrom.com
$53.04
Nope, there's no such thing as too many white sneakers, especially since they go with absolutely everything.
11
If you need a sexy turtleneck
Clip Dot Sleeve Sweater
CECE
nordstrom.com
$44.50
As we start to transition into spring, you can whip out this sheer-sleeve option.
12
If you need an elevated everyday basic
Twist-Front Cozy Pullover
GIBSON
nordstrom.com
$31.90
It blows my mind to see how a little draping can make even the simplest winter essentials look ten times cooler. Peep this gray long-sleeved pullover, to catch my meaning.
13
If you need to add texture to your wardrobe
Poodle Texture Pullover
1.STATE
nordstrom.com
$59.40
Can't stand itchy sweaters? Me neither. This one is unbelievably soft and the fuzzy finish kind of looks like a poodle.
14
If you need a party dress
Sequin Minidress
LEITH
nordstrom.com
$41.40
All of those weddings and celebrations are coming up, so you may as well start preparing now.
15
If you need a camera-ready top
Bobble Stitch Sweater
RACHEL PARCELL
nordstrom.com
$57.00
Blogger Rachel Parcell keeps creating Instagram-worthy pieces, including this puffy-sleeve, polka-dot sweater.
16
If you need fancy jeans
High-Rise Skinny Jeans
SEVEN7
nordstrom.com
$89.00
There are some moments in life when you really have no choice but to be extra. This pair of studded jeans gets the job done.
17
If you need an investment sweater
V-Neck Cashmere Tunic Sweater
VINCE
nordstrom.com
$254.98
This timeless top might be on the pricier side, but it will definitely last for years and years to come.
Advertisement – Continue Reading Below