We've Gathered Here Today…to Discuss 11 Ways You Can Travel for Free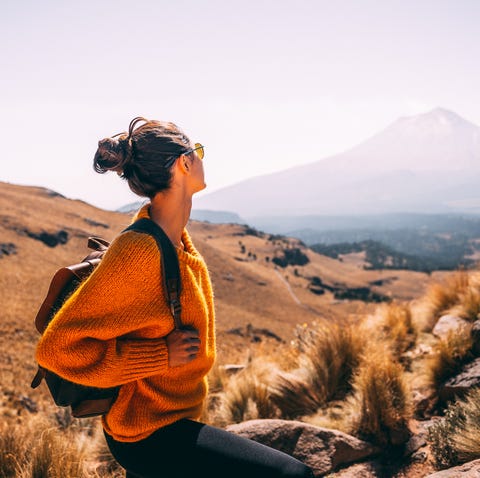 MStudioImagesGetty Images
If "travel more" is one of your forever New Year's resolutions but you never get around to checking off "win the lottery" from last year's list, there's no need to give up entirely. Even if Instagram makes it seem like you need to be a millionaire to jet around the world in style, there are plenty of ways to book flights and find a place to stay for free—or at least, on the cheap. Here are 11 expert-approved tips for how to travel affordably.
Sign Up With a Cash Back Website
Yep, it's possible to actually *earn money* when you book a trip. Food and travel influencer Caitlin, of @BeFatBeHappy on Instagram, does the bulk of her buying on Rakuten, a free site where you can shop at over 2,500 stores and get cash back. "I'm part of Rakuten, which gives me cash back across a bunch of different sites when I shop online. When I book on certain travel sites, there have been times where I've gotten up to 14% cash back on a purchase—more money in your pocket!" she tells Cosmo.
Pretty reassuring to know that even our fave influencers aren't always bouncing around the world for free, eh?
Three Words for Ya: Airline. Rewards. Program.
Okay, I'll admit that signing up for an airline's mileage/rewards program does come with a barrage of annoying promotional emails. BUT! The perks are worth it. Caitlin is a committed member to all of 'em. "Why? It's free, and the more often you fly, the more miles you accumulate, and the more perks you get," she explains. Seriously, just by copying and pasting your email on every airline's loyalty sign-up page (for a whopping zero dollars, I might add), you can get free flights and free upgrades.
Book Your Stay with a Company That Has Deals
Booking hotels or even Airbnbs can get quite pricey. Instead, look for sites that offer discounts and perks. Caitlin recommends Hotels.com: "On Hotels.com, when you book any ten nights, you'll get one night free. The value of this free night will the average cost you paid for the ten nights." Sounds pretty sweet to moi.
If You Want to Live Abroad, Consider Working as a Nanny or Au Pair
If you've never heard of an "au pair," it's basically just a live-in nanny—often someone in their late teens or early twenties who moves in with a family abroad to learn the native language in exchange for caring for their kiddos!
My college-roommate-turned-best-friend Olivia worked as an au pair in Spain a couple years ago, and barely dropped *any* dough on the trip. "My time au pairing in Barcelona was one of the best experiences of life. I can't recommend it enough. It's one of, if not the best ways to experience a new culture for (basically) free," she remembers.
In Olivia's opinion, nannying is even better than studying abroad for a semester. "You get to immerse yourself within a community and make connections with people who actually live there, which was especially great for practicing my Spanish."
Be Strategic with Your Christmas List
Instead of asking for the newest iPhone the next time you're due to receive a present, create a travel fund. Lifestyle and travel influencer Selena Taylor, also known as @FindUsLost, swears by Zola—a wedding registry website that allowed her friends and family to donate money to her and her husband's ideal vacation.
"We dreamed of having our honeymoon in Tahiti and asked our guests to donate to our travel fund instead of purchasing home goods. Thanks to them, it was the trip of a lifetime," she tells Cosmo.
This could be you, my dear friend:
Fear not, you don't need to be walking down the aisle any time soon to steal this idea. Platforms like FundMyTravel and Cashinator will allow your friends and fam to donate to your adventure endeavors.
Another idea: the next time your birthday rolls around, ask for gift cards to travel websites. Most major airlines sell their own, but you can also gift "flight hours" from Skyhour to be used on 350 carriers. Airbnb also sells gift certificates, as does the boutique hotel site Mr. and Mrs. Smith.
Get a Travel Rewards Credit Card
If you're not accumulating points on a travel rewards credit card, you're basically throwing away free flights. Sure, you may prefer to stockpile miles on one airline's card, but the Chase Sapphire Preferred, for instance, gives you freedom to book on whatever airline you want. Redeem your points when you book tickets through Chase's own travel-booking site. Just remember to pay off your balance in full each month so you don't accumulate any debt.
Drive Someone Else's Car Across the Country
If you don't own a car or have the funds to rent one, you can still go on the American road trip of your dreams by offering to drive someone else's vehicle from point A to point B. Companies like Auto Driveaway connect car-owners with drivers (officially they're known as the largest vehicle-relocation company in the U.S.), and in order to qualify, you need to be at least 23 years old and have a valid license. After putting down a $350 security deposit (returned upon delivery), you'll be paid a negotiable rate—either flat or per mile—and gas will be charged back to the owner. Yep, you get paid to take a road trip, pretty much.
Teach English
If you have between nine months and two years to spare, you can get paid to teach English abroad. Having TEFL (Teaching English as a Foreign Language) certification isn't required in some countries, but it's highly recommended to prepare you for the job. Check out TEFL's website for job postings.
For people with less time on their hands, Diverbo sends groups of 15-25 English-speaking volunteers to villages around Spain and Germany for weeklong programs to help locals practice their language skills. Diverbo won't cover your flights, but they will provide full room and board during the program.
Find Your Roots
Young Jewish adults have been traveling to Israel with Birthright Israel since 1999, and a few more organizations offer similar trips for other cultural groups. People of Greek, Hungarian, Macedonian, Armenian, and Cuban descent can travel to those nations on a free trip to reconnect with their heritage.
Volunteer With WWOOF
In exchange for working on an organic farm, WWOOF (Willing Workers on Organic Farms) will offer you free accommodation, food, and the opportunity to learn new skills and a new culture in the destination of your choosing. Although you won't have to budget for room and board, you'll be responsible for covering your travel costs, plus a small subscription fee (usually less than $75). If farm work isn't for you, explore other volunteer opportunities at Workaway.
House Swap or House Sit
If you don't mind welcoming strangers into your home, a house swap guarantees you a free place to stay. (Haven't you seen The Holiday?!) Although some sites like Home Exchange and HomeLink charge an annual membership fee, GuestToGuest is free as long as you're willing to host people in your house.
If you'd rather not do the whole house swap thing, offer to house-sit for your friends and family the next time they go out of town. Once you have a few references, sign up for a house-sitting website to expand your travel options. Although they all have membership fees, TrustedHousesitters.com, MindMyHouse.com and Housecarers.com are all solid options to explore.